Looking for Martians
June 09, 2011
Since the dawn of the telescopic age and even now in the age of robotic probes, people have been finding "evidence" of alien civilization on the planet Mars. With even a simple telescope, the Martian polar ice caps can be distinctly seen as can regions of darker and lighter features. As telescopic technology improved, more details could be discerned. Unfortunately, the human mind has the ability to see things that aren't actually there, a phenomenon known as pareidolia. Sit and look at a blurry, wavering image of a planet millions of miles away through a telescope long enough, and you will start to see things.
The first person to "see things" on Mars was the Italian astronomer Giovanni Schiaparelli. In the 1870s and 1880s, he made a map based on his observations of Mars that included features called canali (Italian for channels), which he presumed to be natural features. Non-Italian speakers naturally saw the word canali and assumed that meant canals. Canals imply canal builders! Martians were living (or lived in the past) on Mars! This Martian mania reached its height with the American astronomer Percival Lowell. Lowell spent his life studying Mars, producing ever more complex maps of the Martian canal system in hopes of convincing the world that there were indeed Martians. The science fiction novels of the time reflected our obsession with Martians: the sinister invaders of H.G. Wells' The War of the Worlds, the dying race of Ray Bradbury's The Martian Chronicles, and the fantastical Barsoomians of Edgar Rice Burroughs' Mars novels.
When the robotic Mariner space probes reached Mars in the 1960s, no evidence of Lowell's canals could be seen. Mars is a dry, cold, heavily cratered desert world with no oxygen in its very thin atmosphere. While Mars can get warm enough in some places at times that a human could walk about on the surface with only an oxygen supply and warm clothes, they'd need some serious sunblock. The thin atmosphere allows lethal amounts of UV radiation to reach the surface. The subsequent Mars missions did find evidence of canali though: ancient riverbeds. It appears that Mars was once a much warmer, wetter world with a much thicker atmosphere. That was probably at least a billion years ago though, so hopes for modern Martians fell rather quickly.
But wait! As the public pored over the images of Mars taken by the Viking orbiters in the late1970s, something was found in the region known as Cydonia: a GIANT HUMAN FACE. Others found "pyramids" and other "structures" in this region, and developed elaborate theories about their significance. Clearly, someone built a massive face in hopes of attracting our attention! The Martians were back! Alas, subsequent examination of this region by more recent space probes has shown that the "face" is simply an optical illusion created by low angle light on a rather ordinary mesa.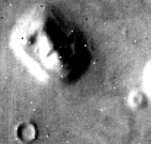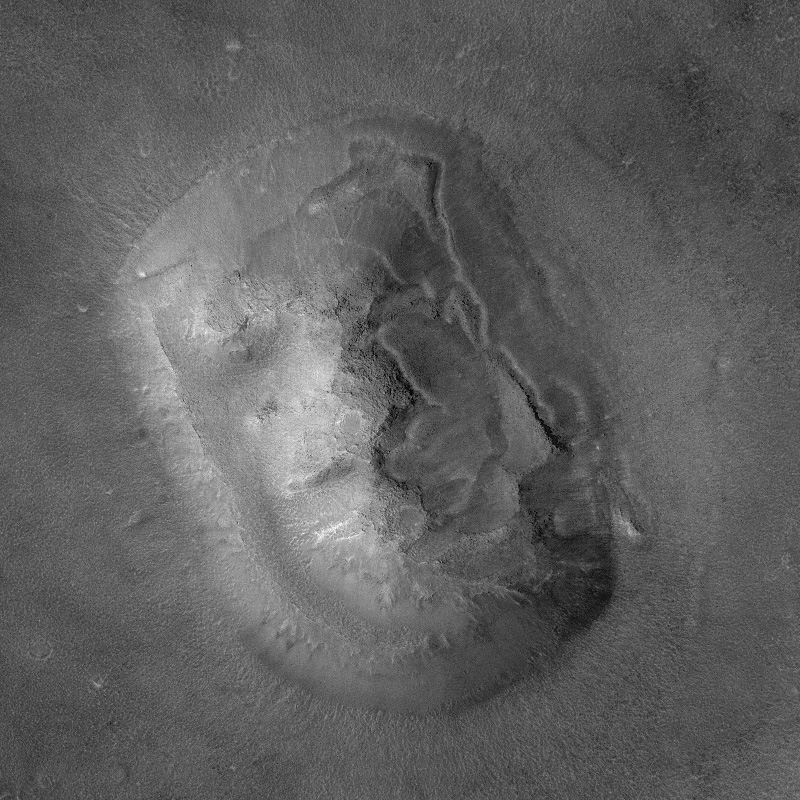 But wait! People poring over the images released from the Spirit Rover mission found…wait for it…MARTIAN BIGFOOT!
Wow! That really does look like a really relaxed Bigfoot sitting on a rock. Let's take a look at the panoramic view in which this "creature" appears. What the small picture doesn't show is the scale. This "Bigfoot" is a few inches tall. Micro-Martian Bigfoot is just another optical illusion.
But wait! Recently, a self-described "armchair astronomer" using Google Mars to explore the Red Planet found something he describes as "Bio Station Alpha" near the Martian south pole. The Martians were back yet again!
Again, NASA scientists have ruined all of our fun by pointing out that this is simply the track of a cosmic ray hitting the pixels of the camera's digital image sensor. The list of Martian "artifacts" found in NASA Mars images could go on and on, as the internet allows dedicated Martian-hunters easy access to all the NASA Mars imagery.
What amazes me most is not that there are things on Mars that look like Martian artifacts, but that these are actual pictures of an actual landscape on another planet! We did this! We sent robots across millions of miles of space to get these pictures! I think we should quit looking for Martians. If Mars has indigenous life-forms, they are likely to be microbes living deep underground. Instead, we should start looking at the beauty of the Martian landscape itself. I hope that some day in the near future, there will be a human astronaut in the foreground of one of these Martian landscapes.
-Jeff D.
Grandview Branch
Image Credits: NASA/JPL
Tags:
martians
,
Mars